Welkom op de website van Happy Horse Coaching Farm in Zuidwolde, Drenthe. Samen met mijn team en mijn paarden bied ik een breed scala aan diensten op het gebied van paardencoaching voor verschillende doelgroepen – van jong tot oud, van individueel tot groepssessies.
Voor paardencoaching hoef je paarden niet leuk te vinden en je hoeft ook geen ervaring met paarden te hebben. Juist als je er blanco instapt kan ik veel voor je betekenen.
Ben je bang voor paarden? In dat geval zorg ik ervoor dat de paarden niet direct bij jou kunnen komen. Ik coach vanaf de grond en je hoeft niet op het paard te zitten.
Heb ik je interesse gewekt? Speur dan even verder op onze website. Je vind hier informatie over ons, onze diensten en leest hier ook ervaringen van onze tevreden klanten. Voor meer informatie of een kennismaking kun je geheel vrijblijvend contact opnemen of een keer persoonlijk langskomen. Wij ontmoeten je graag!
Hartelijke groet,
Claudia Baldwin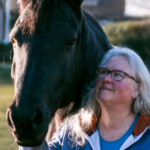 ---
---
Gecontracteerd bij omliggende gemeenten

Sinds kort ben ik gecontracteerd door de omliggende gemeenten om WMO coaching trajecten met mijn dieren te mogen verzorgen. Woon je in gemeente Staphorst, Meppel, Hoogeveen of De Wolden en heb je behoefte aan begeleiding? Neem dan contact op met een consulent van je gemeente en geef aan dat je graag naar de Happy Horse Coaching Farm wilt komen voor een begeleidingstraject.